When you visit Destin Florida, there are plenty of vacation spots perfect for families. This makes it challenging for people to choose the best places out of all. Destin is famous for its beaches, adventure parks, and much more. So, here in this article, we'll be talking about the top 10 things to do in Destin Florida with kids that you and your kids will enjoy the most. This coastal paradise has a lot of places to enjoy, so let's take a look at the best ones. 
Top 10 things to do in Destin Florida with Kids
1. Slide and swim at Big Kahuna's Water Park
One of the famous spots in the city is Big Kahuna Water Park. This water park has two different parks which have different activities for kids. There are dedicated spaces for kids and small children to enjoy their rides, slides, splash pods, water playgrounds, and pools. This is an overall fun water adventure for kids, which is the best for family time to enjoy. 
2. Buccaneer Pirate Cruise
The next one is Buccaneer Pirate Cruise, which is an amazing pirate adventure cruise. This embarks on the journey of realistic pirate adventures of the Gulf of Mexico and gives an experience of 2 hours. This non-stop entertainment cruise allows you to look for treasure, perform water fights, sing, dance, sword battles, and much more. This is another best place to experience with family and kids.
3. Hit the Beach
This one is quite an obvious thing to do when you visit Destin. Since the city is famous for its coastline and beaches, you can visit any famous beach to have a relaxing and fun day with your kids. However, all the beaches in the city are not public, so you can look for the ones open for you at the moment.
4. Play on the Crab Island Adventure Tour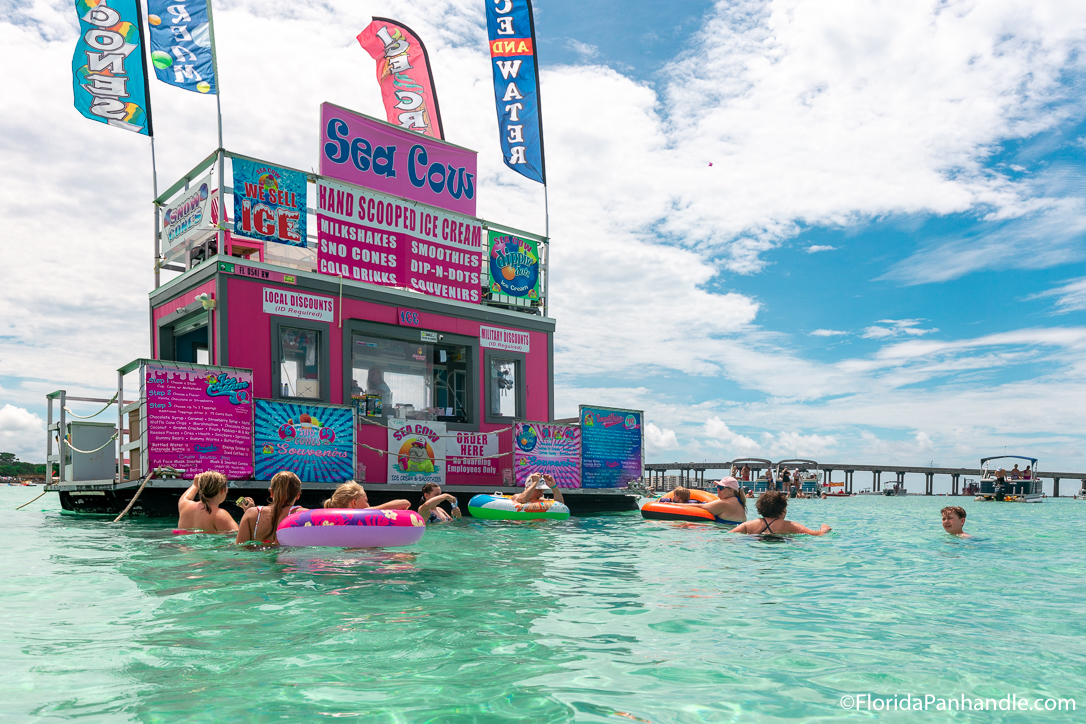 This adventure park is fill of activities that you may not be able to beat at a time. The Crab Island Adventure Tour is the best place to visit with your kids in Destin. This excursion will take you to different places and the first one is the Seashore, where you can enjoy the water park setup. The next one is the famous sandbar, where kids can relax and eat and you can enjoy the food and alcoholic drinks (only for the parents). 
5. The Village of Baytowne Wharf
Among the top things to do in Destin Florida with kids is to visit the Village of Baytowne Wharf and explore the amazing homes. This is the best place to visit especially if you a have teenage kid with you as on Saturdays there is College Football organized in the village that is worth watching if you or your kids are sports enthusiasts. The place also has drop-off arcades, designed for teenagers to stay and play video games, laser tag, and more. This is the best place to drop off your children to go and spend some quality time or do shopping with your spouse.
6. Henderson Beach State Park
One of the famous hallmarks of Destin Beach is the white soft sand and the best place to experience is Henderson Beach State Park. In this park, you can enjoy and explore sand dunes, gulf waters, nature trails, and more. It is also the remaining area in Destin for coastal scrub and you can also use campsites present in the park and do fishing, swimming, and hiking as well. To explore the wildlife adventure this is the best place to visit.
7. Go on a parasailing adventure
Another best adventure to do with your children is parasailing, as it allows you to experience the city views from the sky. This will be a memorable adventure for your family to explore something new. 
8. Gulfarium Marine Adventure Park
If your kids love sea animals, then the best place to take them is the Gulfarium Marine Adventure Park. Here your kids can see dolphins, sea lions, fishes, and other marine animals as well. This park is a place of marine conservation and has existed for more than 60 years. The park also features dolphin shows and sea lions interactions as well. Overall it is among the best things to do in Destin Florida with kids. 
9. HarborWalk Village
If you and your kids love to watch fireworks, then visit the HarborWalk Village. This place is filled with activities, adventures, and dining as well. There are many local restaurants as well, serving the famous seafood varieties of Destin. The village conducts different events like live music, fireworks, and more, which are free to enjoy. 
10. Gator Beach at Fudpucker's
The last of the best things to do in Destin Florida with kids is to visit Gator Beach, which is famous for the presence of alligators. This beach features a beachside bar and grill, which you can enjoy with your family and take pictures with baby alligators and play in the playground. This is another adventurous place to go with your kids.
Wrap Up!
Destin is indeed a wonderful place to visit with family and friends, as the city is filled with places that attract people from all over the world. If you are planning to visit the city with your kids, then there are many things to do with them, that you both can enjoy. There ae adventure parks to visit, water parks to have fun, beaches to relax, and restaurants to have some delicious food. The top 10 things to do in Destin Florida with kids were discussed in the article and we hope that you enjoy the best on your trip.
Nancy Nagpal, a skilled content writer whose words wield the power to captivate and inform. Always had a passion for storytelling, Nancy weaves narratives that engage and resonate with readers. Her versatility spans a myriad of niches, including technology, travel, health, and more. With an eye for detail and a commitment to excellence, Nancy delivers content that informs and inspires. Beyond the keyboard, she is an avid explorer of cultures and cuisines, finding inspiration in every corner of the world.